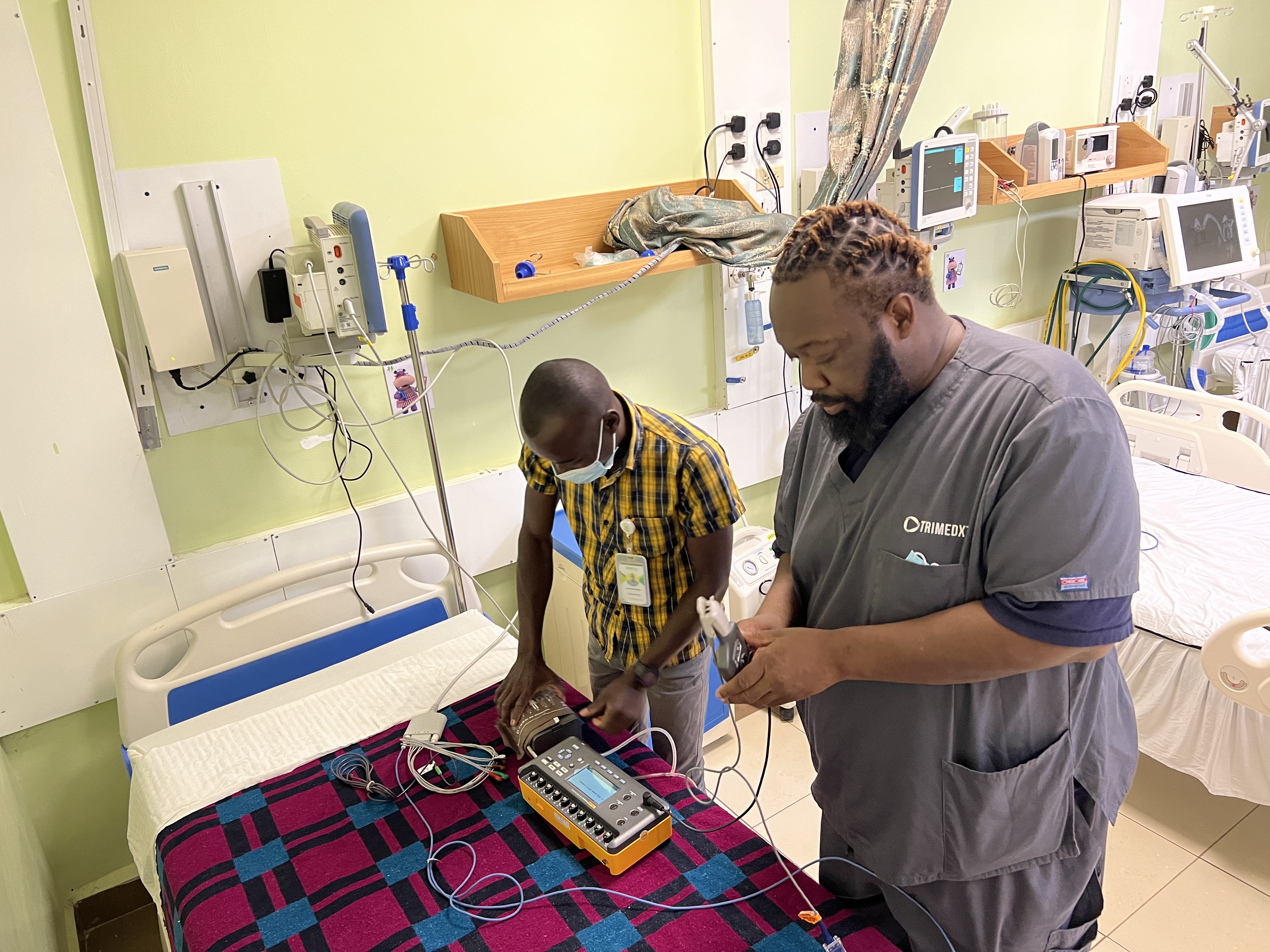 Foundation's Q3 FY22 trip summary
After a two-year hiatus due to the pandemic, TRIMEDX Foundation was anxious to resume international mission trips. In July, August, and September, fourteen TRIMEDX Foundation volunteers traveled over 100,000 miles and logged hundreds of volunteer hours. The Foundation team was thrilled to reconnect with our international partners in Niger, Zambia, Uganda, and Kenya, as well as continuing our domestic work in Indiana, Kentucky, and Michigan.
In the African hospital sites, our biomeds performed PMs and repairs on a variety of equipment, including ultrasound, anesthesia, OR lights, ventilators, and C-arms. Some of the equipment's PMs and repairs were more than two years overdue.
In Uganda, our volunteers completed preventative maintenance checks on 68 pieces of equipment in addition to the assessment of 15 Spacelabs monitors and 7 Welch Allyn Spot monitors.
In Zambia, our volunteers unloaded a shipping container full of equipment, helped assess and make plans for the creation of an onsite lab, and trained local nurses and technicians on proper PMs and daily tests for defibrillators.
In addition to the biomedical work which took place in Niger, our volunteers worked with the hospital leadership team to purchase 43 sets of clothing for the children of the hospital. Each child received two new outfits and a pair of shoes. ​​​​​​
The associates and board of directors of TRIMEDX Foundation feel deeply fortunate to report on this successful reentry to traveling abroad, and we look forward to upcoming opportunities to serve communities in need around the world. We would like to thank this quarter's volunteers for their dedication to service as international travel resumed. Thank you to…
Doug Alberte
Yasser Badreddine
Keith Baird
Christopher Bell
Josetta Caudill
Charlie Hanover
Mary Larkin
Eric Myers
Jimmie Norman
John Rauchenstein
John Saccoman
John Short
Randy Smith
David Wallace
TRIMEDX Foundation biomedical mission specialist Kevin Collazo
​​​​​​​Thanks to the generosity of so many, TRIMEDX Foundation continues to make a global impact by raising the standard of healthcare for communities in need. TRIMEDX Foundation is a ministry committed to sharing knowledge, inspiring independence, and improving health care by meeting the unique needs of the communities we serve.
For more information on volunteer opportunities, please visit our website, trimedxfoundation.org.