The Foundation Welcomes New Board Members
The TRIMEDX Foundation is pleased to welcome Kelley Jacobsen and Bill Conrad to the TRIMEDX Foundation Board of Directors.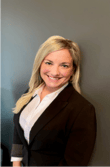 Bill Conrad is senior vice president of customer delivery at TRIMEDX. He has been with been with the company since April 2012.
Kelley Jacobsen has been with TRIMEDX for eight years and is senior vice president of supply chain and shared services.
​​​​​​​Both senior leaders are natural fits for the two available board positions. According to board chair, Tim McGeath, "Bill and Kelley are worthy board members. Both have generously supported the Foundation over the years. We are pleased to have them on board!"

Thanks to the generosity of so many, TRIMEDX Foundation continues to make a global impact by raising the standard of healthcare for communities in need. TRIMEDX Foundation is a ministry committed to sharing knowledge, inspiring independence and improving health care by meeting the unique needs of the communities we serve. For more information on the TRIMEDX Foundation, to volunteer, or make a gift, please visit trimedxfoundation.org.