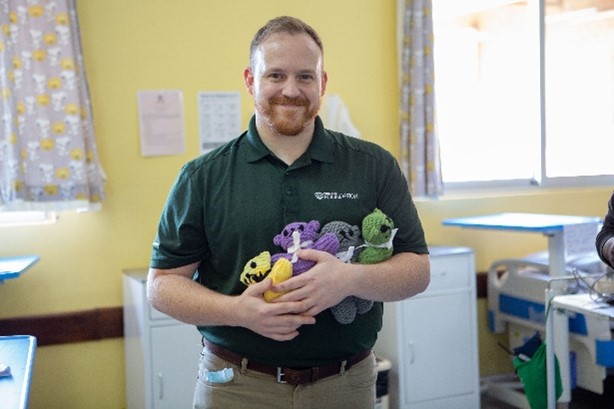 Volunteer spotlight: Jimmie Norman
TRIMEDX associate and TRIMEDX Foundation volunteer Jimmie Norman began his career with TRIMEDX in December 2018. Norman has completed two volunteer trips to CURE Zambia and CURE Niger in addition to supporting domestic efforts in Texas and Indiana.
Q: Why did you decide to volunteer with TRIMEDX Foundation?
A: I decided to volunteer with TRIMEDX Foundation because of the values my family and my time in the Army instilled in me, including the importance of kindness and serving others. It's wild to me that I can help and serve others using the skills and experiences I have been fortunate enough to learn.
Q: What are some highlights of volunteering?
A: I love experiencing new places and cultures. During my trip to CURE Children's Hospital of Niger there was also a group of Romanian tradesman volunteering at the same time. I made some great friendships and learned a bit of Romanian in addition to experiencing Niger for the first time. One night we had a blast playing a German game called 'Heck Meck' in the guest house. It's sort of like Yahtzee meets Dominos, and the players try to collect the most worms. Experiences like that are unforgettable.
Q: What is something about you (a fun fact) that not many people know?
A: I enjoy reading and catching up with my Army buddies through video games in my free time. I'm not great at gaming but it's always a fun time.
Q: Who inspires you?
A: I draw a lot of inspiration from my parents. A few years ago, my father had a heart attack. After he recovered, he and my stepmom began eating healthier and running. They started with 5K races and worked their way up to a marathon. They are currently training for an Ironman Triathlon which is a 1.2-mile swim, 56-mile bike ride, and 13.1-mile run. I am inspired by their hard work and dedication.
Q: Why would you recommend volunteering to others?
A: If you've thought of volunteering but are concerned you don't have enough experience, just fill out the volunteer application! The Foundation works to match your experience with a volunteer opportunity that is the right fit for everyone. You won't fully realize the impact of your time and all that you're capable of until you're wrapping up a trip and reflect on all you were able to accomplish. You won't be doing it alone, just apply!
Thanks to the generosity of so many, TRIMEDX Foundation continues to make a global impact by raising the standard of healthcare for communities in need. TRIMEDX Foundation is a ministry committed to sharing knowledge, inspiring independence, and improving healthcare by meeting the unique needs of the communities we serve. For more information on volunteer opportunities, please visit our website, trimedxfoundation.org.