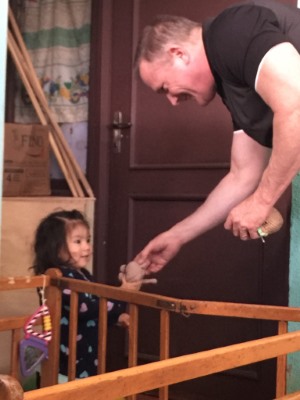 Volunteer Spotlight: Jurgen Zieb
TRIMEDX associate and TRIMEDX Foundation volunteer Jurgen Zieb has been on one in-person and one virtual trip for TRIMEDX Foundation to Bolivia. Jurgen is bilingual and had the opportunity to present "Biomedical Imaging" to students of Universidad del Valle. Over 90 biomedical engineering students attended a series of lectures from Biomedical Engineering professionals from Latin America and the United States.
Q: Why did you decide to volunteer with TRIMEDX Foundation?
A: After completing several overseas mission trips before joining TRIMEDX, I was happy to know that TRIMEDX Foundation had volunteer opportunities and signed up immediately. Using my expertise to provide service to others is very fulfilling.
Q: Who inspires you?
A: My parents were very supportive and loving, and I wanted to show my own children that it is important to give back, because we have so much. I often think about how fortunate we are to have a simple element like water readily available, when many children in the world don't have access to clean water—something many people take for granted.
Q: What is something about you (a fun fact) that not many people know?
A: My hobby is weightlifting. I use it as stress relief and the opportunity to disconnect from outside distractions.
Q: If you had to eat one meal every day for the rest of your life, what would you choose?
A: Platano Frito, fried plantain from South America
Thanks to the generosity of so many, TRIMEDX Foundation continues to make a global impact by raising the standard of health care for communities in need. TRIMEDX Foundation is a ministry committed to sharing knowledge, inspiring independence and improving health care by meeting the unique needs of the communities we serve. For more information on volunteer opportunities, please visit our website at www.trimedxfoundation.org.